VMCH Shellac Coating Machine (MODEL: SUPER VMCH-1000)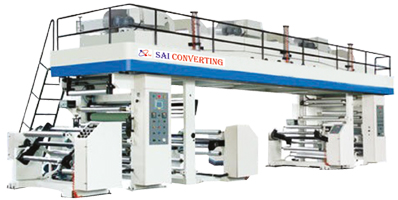 VMCH Shellac Coating Machine
We provide a high quality range of VMCH Shellac Coating Machines. These machines are appreciated by our clients for their high production speed and low maintenance cost, which greatly enhances its cost effectiveness. The specifications of these products are as given below:
Technical Specifications
Coating Facility: Gravure & 3 Roll System
Speed : Solvent base adhesive speed 100 to 120 mtr/minute
. VMCH Coating for foil speed 4 Gsm 80 to 100 mtr/minute and 6 Gsm 70 to 90 mtr/minute
Water base adhesive coating speed 100 mtr/minute Specially designed as a multipurpose plant, these machines possess facilities for polyester lamination silicon coating, adhesive coating for tapes & stickers and heat salable coating on blister.
Fully pneumatically lifting tunnels and impression rollers
Automatic balanced all steel rollers.
Comfortable exhaust system for solvent fumes.
Sound & Uniform heating system at high temperature.
Air nozzles distribute uniform not air across the wash width and are placed against idle rollers for proper web support.
VMCH tunnel is distributed in 8 Heating zones & 2 cooling zones having individual air blower for better temperature control..