Heat & Press Laminator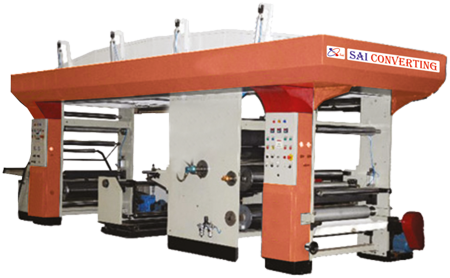 GENERAL SPECIFICATIONS: Heat and Press Laminator
Pneumatic pressure application method on hot drum surface. Heating drum is synchronized with rewinder and dynamically balanced, ground and Hard Chromed. Pneumatic Pressure Application System ( both side control ), for both rubber rolls ( Hot drum & shellac wash unit ) & back up roll. Total 4 nos of chilled roll for cooling of laminated foil, rubber nip for lamination unit & before rewinder unit. Immersed heater-heating system on heating drum through thermic fluid equipped with an expansion tank to accommodate expand volume of liquid during heating. Gravure Coating Method for shellac wash unit. Coating roller-mounting assembly can accept integral shaft type as well as Hollow Type Coating Rollers. High velocity drying system equipped with top dryer of 30 ft long to dry shellac wash at high speed.
Technical Specifications:
Web Width : 500 to 1100 mm
Material to be Proccessed : 20 micron to 50 micron pharma grade soft Aluminium foil, L.D. per Material 40 to 150 gauge LDPE with heat & lamnates.
Maximum Speed : 40 to 80 mte/minute
Chilling Roll : 4 Nos.
Heating System : Oil Jacket with Electrical Heater.